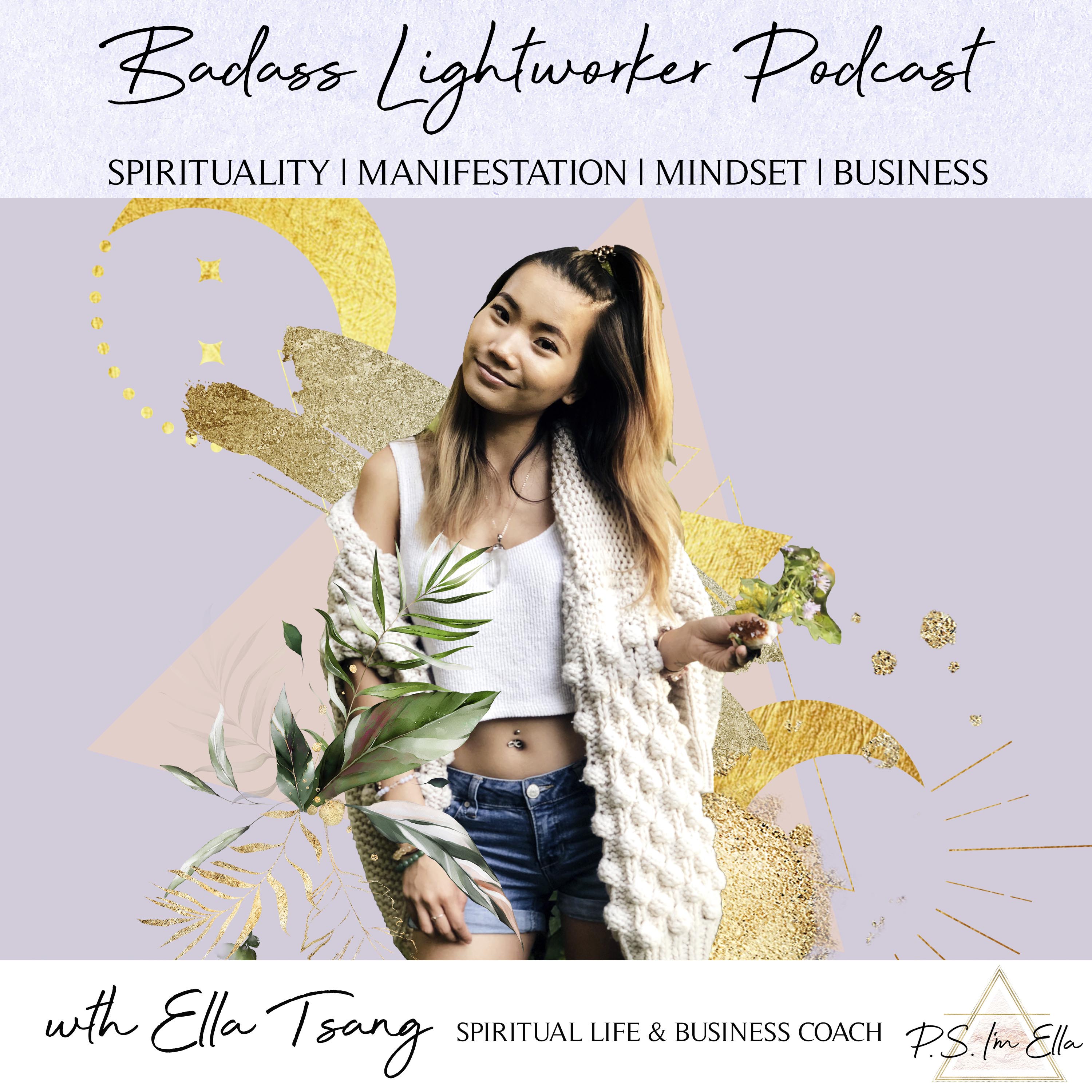 Welcome to the Badass Lightworker Podcast. My name is Ella Tsang, and I'm a spiritual life & business coach, master manifestor and lover of all things woo. If you are a spiritual entrepreneur or leader looking to own your purpose and truth to make massive impact in this world, then you've found the right place. It is my mission to empower badass ambitious lightworkers to embrace their soul purpose, shine their light online with confidence and manifest their most soul-aligned business and life. You deserve to create your dream reality and this podcast will give you all the spirituality, manifestation, mindset and business tools to make it all happen. Get ready to raise your vibration BIG TIME and to raise the vibration of this entire planet with your light. 
I am so grateful to have on this episode's interview, my beautiful soul sister Kelsey Lauren. 
As an alignment activation & conscious business mentor, Kelsey guides and initiates spiritual entrepreneurs and seekers to honour both their divinity and humanness as they cultivate wild alignment, unleash their medicine & step into their dharma. 
Navigating her own traumas, trials and tribulations led Kelsey on a journey to heal, uncover her Truth, reclaim her power and become deeply devoted to her mission of cultivating a more conscious world. 
Always marching to the tune of her own drum, her adventurous and questioning spirit has always sought to challenge norms, unearth Truth and carve her own path. She draws on these qualities alongside her experiential, energetic & intuitive wisdom, human design, her guided integration process and business & marketing background to support her work. 
Her signature mentorship container, Soul Sovereignty, guides light leaders on a 12-week journey within to reawaken, activate deep alignment and catalyze the unapologetic embodiment of their sacred Truth. She believes profoundly in the worthiness and capacity we each hold to live, create and contribute in love, consciousness and Truth-guided sovereignty. 
Currently, she is leaning more deeply into cultivating, taking and sharing her own medicine, crafting an upcoming mentorship container for the soulpreneur ready to rise up and lead. 
In our conversation, Kelsey & I chat all about why tapping into your Feminine is so important for living your most aligned life, and what it looks like to live from your body, and not your head. We dive into connecting with your intuition, surrendering & trusting, what are the morning rituals that can help you create your life from a place of wild alignment and so much more! 
Hope you enjoy!  
Check out the Light Up & Manifest 6 Week Subconscious Mind Elevation & Manifestation Experience: http://bit.ly/2TrqlKy
As a beloved podcast listener, you can use the coupon code BLPODCAST to get $111 off the program! 
If you want to book in a 15 min chat with me to see if this program is a good fit for you, schedule it in here: https://psimella.as.me/lightupandmanifestchat
Connect with Kelsey Here: 
Instagram: www.instagram.com/kelseylauren.life
Subscribe to her RE:Alignment Newsletter community here: www.kelseylauren.life 
Come Hang Out with Me!
Instagram: https://www.instagram.com/psimella/
Badass Lightworker Tribe Facebook Group: https://www.facebook.com/groups/badasslightworker
YouTube: https://www.youtube.com/c/psimella
Website: https://www.psimella.com
If you liked this episode, be sure to give a rating and review on iTunes! It would make my LIFE and help other Badass Lightworkers find this content. 
Stay light & shine bright! 
xx 
Ella