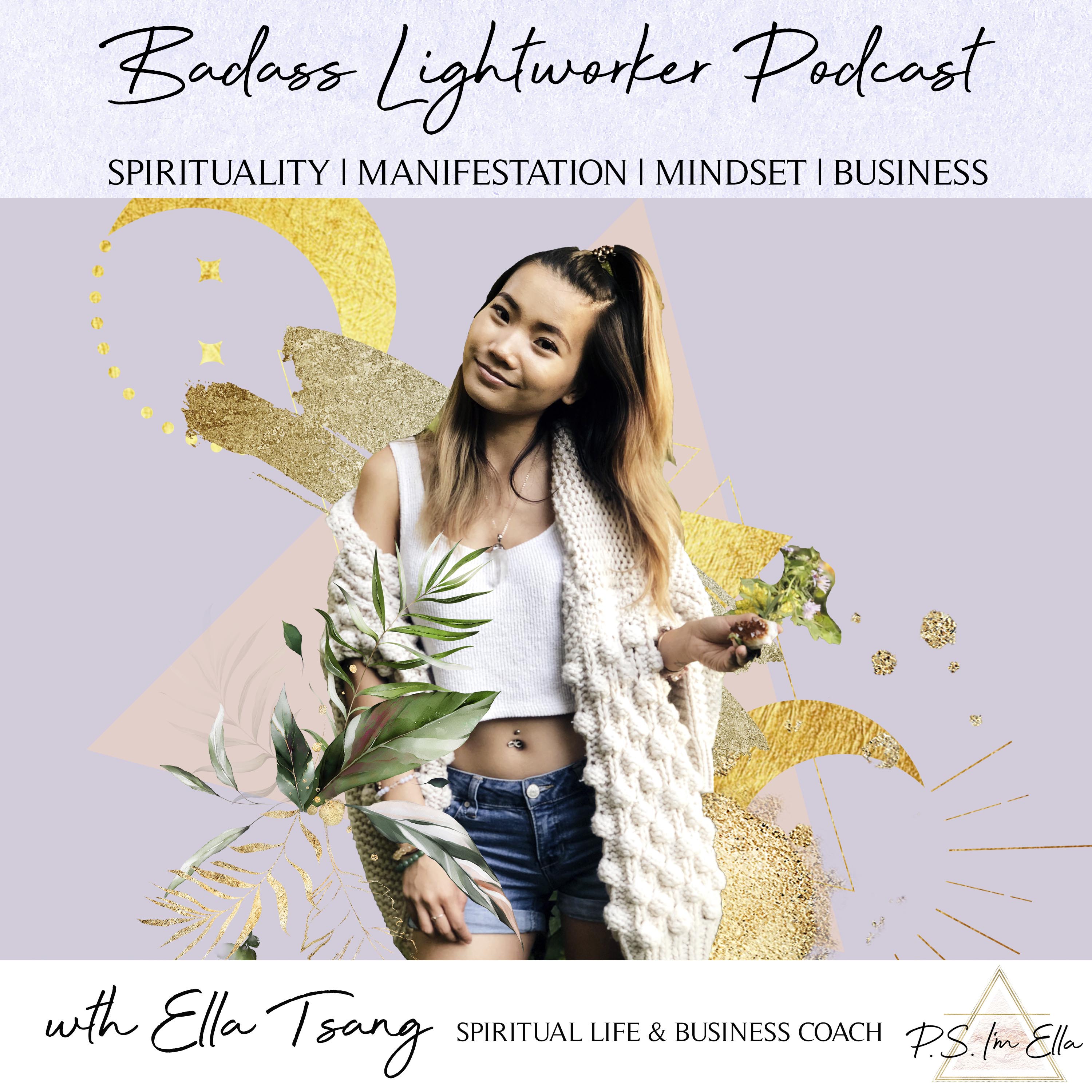 Welcome to the Badass Lightworker Podcast. My name is Ella Tsang, and I'm a spiritual life & business coach, master manifestor and lover of all things woo. If you are a spiritual entrepreneur or leader looking to own your purpose and truth to make massive impact in this world, then you've found the right place. It is my mission to empower badass ambitious lightworkers to embrace their soul purpose, shine their light online with confidence and manifest their most soul-aligned business and life. You deserve to create your dream reality and this podcast will give you all the spirituality, manifestation, mindset and business tools to make it all happen. Get ready to raise your vibration BIG TIME and to raise the vibration of this entire planet with your light.
In this episode, I had the honour of interviewing speaker, medicine priestess and business mentor Sabrina Riccio. 
Sabrina (Shiv Inder Kaur) is breaking the mold when it comes to being a conscious leader in today's day and age. As a Soulisitic Business Mentor & Modern Medicine Priestess, Sabrina catalyzes spiritual entrepreneurs to embrace all facets of their human experience to unleash their medicine and activate their legacy. 
Navigating through 20+ years of trauma, prolonged depression and being struck by lightning in 2012, Sabrina embarked on a Soulistic Journey to heal and reclaim her power. Her mission is to help cultivate a conscious tomorrow, today. Sabrina believes that with her unique approach called The Soulistic Journey, we can activate and align with our Divine Purpose and Radiate Our Radness and revolutionize humanity. 
Through her signature program THRIVE, Sabrina guides Medicine Mystics on a 90-day journey to activate and align their soulful business. Sabrina has spoken and taught Kundalini Yoga & Meditation experiences at festivals and gatherings around the world. Amongst her colleagues and listeners of her chart-topping Sovereign Society Podcast, she's known to keep it real and authentic through storytelling, her deep wisdom and infectious laugh that keeps spirit elevated and alive. 
Currently, she is writing her first book, Radiate Your Radness, a 40-day Soul Journey to Activate & Align from the inside out. 
In this interview, we chat all about Sabrina's story, how she survived getting struck by lightning and how that reset her life's path and guided her to her soul's purpose. We dive into all things Kundalini, why is Kundalini powerful for activating our energy in all aspects of life, how working through our Lower Triangle, the lower 3 chakras can allow us to live from our heart space, what role psychedelics and micro-dosing has in healing, what it takes to unleash your medicine and shine in the world and so much more.  
Hope you enjoy!  
Connect with Sabrina: 
Work With Me: 
Book in your FREE 30 minute Light Activation Clarity Call: https://psimella.as.me/lightactivationclarity
If you are spiritual entrepreneur ready to shine your light & share your message BIG time, check out the Shine Your Light 1:1 Program: http://bit.ly/2OlCpZO 
If you are a lightworker looking to design and manifest your most LIT UP life, check out the Light Up Your Life 1:1 Program: http://bit.ly/35h8skD 
Instagram: https://www.instagram.com/psimella/
Badass Lightworker Tribe Facebook Group:https://www.facebook.com/groups/badasslightworker
YouTube: https://www.youtube.com/c/psimella
Website: https://www.psimella.com
If you liked this episode, be sure to give a rating and review on iTunes! It would make my LIFE and help other Badass Lightworkers find this content. 
Stay light & shine bright! 
xx 
Ella