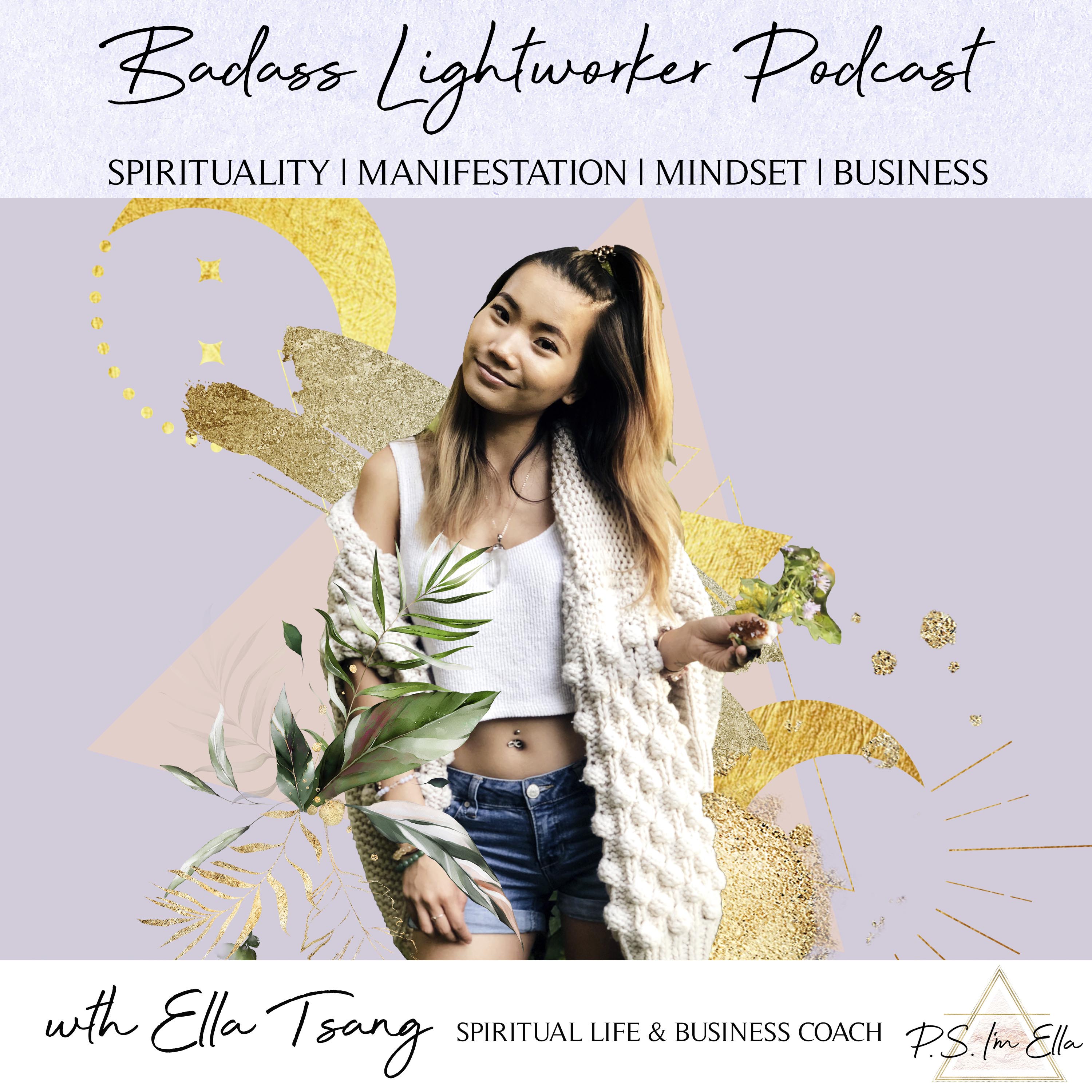 Welcome to the Badass Lightworker Podcast. My name is Ella Tsang, and I'm a spiritual life & business coach, master manifestor and lover of all things woo. If you are a spiritual entrepreneur or leader looking to own your purpose and truth to make massive impact in this world, then you've found the right place. It is my mission to empower badass ambitious lightworkers to embrace their soul purpose, shine their light online with confidence and manifest their most soul-aligned business and life. You deserve to create your dream reality and this podcast will give you all the spirituality, manifestation, mindset and business tools to make it all happen. Get ready to raise your vibration BIG TIME and to raise the vibration of this entire planet with your light.
In this episode, I had the pleasure of interviewing my Asian soul sister, physician turned international speaker, Master Life & Empowerment Coach, Katie Nguyen.
As a self-love strategist and embodiment expert, it is Katie's mission to help women heal the relationship with themselves, to rediscover their truth and master their innate wholeheartedness and soul-perfection.
Katie is infectiously passionate about helping ambitious, highly sensitive women transform perfectionism, chronic self-doubt and not-enoughness into radical self-love, acceptance and wholeness, so they are compelled to create a life that not only looks good but feels extraordinary.
Katie's journey to self-love and awakening sprang from years of deep insecurity, shame and self-rejection. By her thirties, Katie was a successful doctor with a highlight reel of accomplishments, material wealth and experiences, chasing confidence outside herself, yet feeling more empty, unworthy and alone than ever. Ultimately, the Universe dealt her a spiritual 2x4, cracking her heart open to the Truth which allowed her to begin healing and finding the courage to leave the life she knew for the life she was born to have.
Today, Katie is a powerhouse of knowledge, wisdom and intuition, extracted from years of healing and training with world-class coaches and mentors. 
She believes your "mess" is your message and has committed her life to helping and empowering others to love and accept themselves, to courageously own their imperfections and spread their unique message to the world. Katie lives by the mantra, ''your task is not to seek for love, but merely to seek and find all the barriers within yourself you have built against it", an ongoing path she is committed to walking to help create more heart-centered, compassionate individuals in the world who are successful in all areas of their life.
In this powerful interview, we chat all about overcoming perfectionism, embracing your unshakeable confidence and self worth, how your mess is your message and has a higher purpose, and how to embody more self love and appreciation- which we chat all about why accepting ALL parts of us is so important. We also dive into why being vulnerable is so important and how to show yourself deep self love as you are stepping out of your comfort zone.
Hope you enjoy!  
Connect with Katie: 
Work With Me: 
Book in your FREE 30 minute Light Activation Clarity Call: https://psimella.as.me/lightactivationclarity
If you are spiritual entrepreneur ready to shine your light & share your message BIG time, check out the Shine Your Light 1:1 Program: http://bit.ly/2X3ktqR 
If you are a lightworker looking to design and manifest your most LIT UP life, check out the Light Up Your Life 1:1 Program: http://bit.ly/2CvVzqo   
Instagram: https://www.instagram.com/psimella/
Badass Lightworker Tribe Facebook Group:https://www.facebook.com/groups/badasslightworker
YouTube: https://www.youtube.com/c/psimella
Website: https://www.psimella.com
If you liked this episode, be sure to give a rating and review on iTunes! It would make my LIFE and help other Badass Lightworkers find this content. 
Stay light & shine bright! 
xx 
Ella