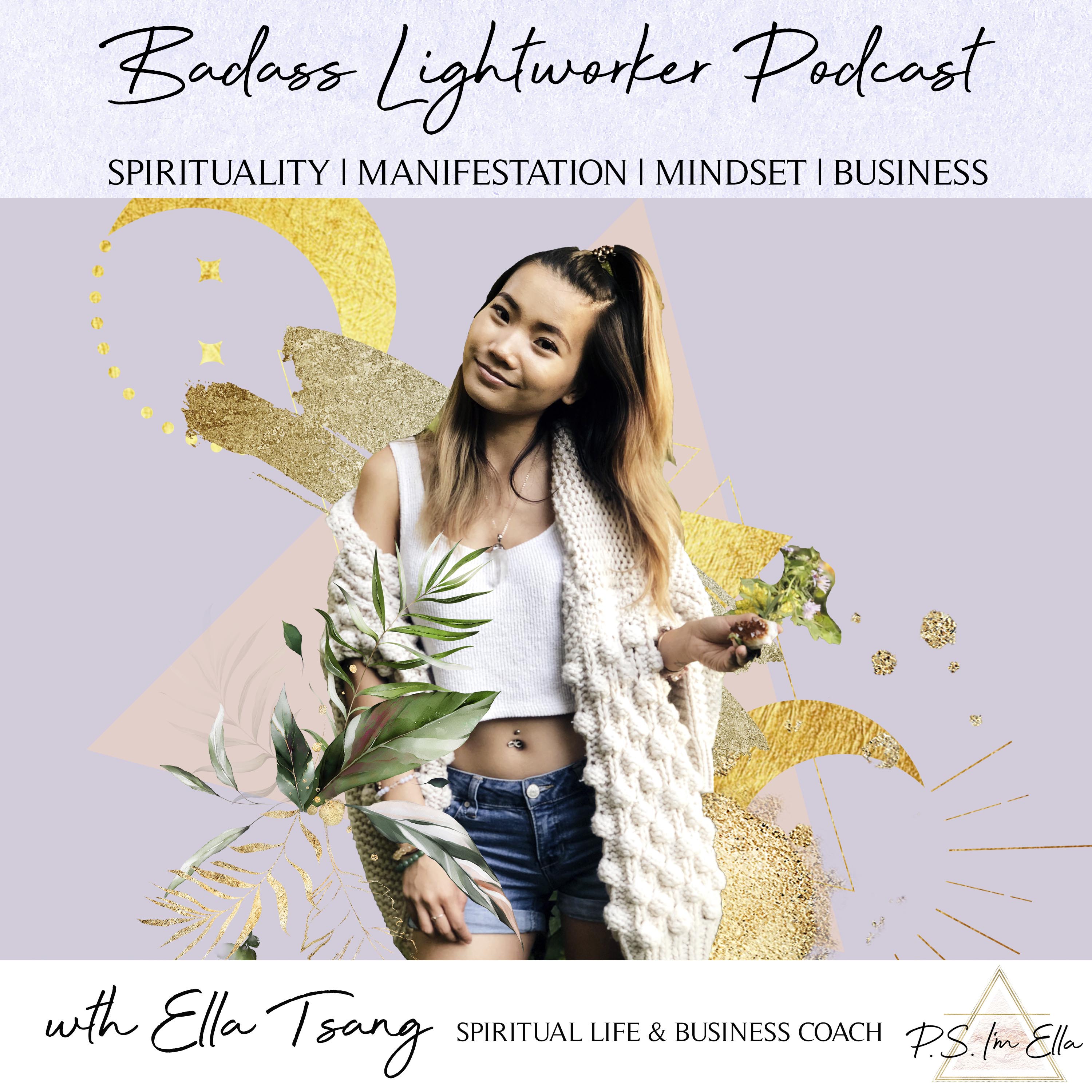 Welcome to the Badass Lightworker Podcast. My name is Ella Tsang, and I'm a spiritual life & business coach, master manifestor and lover of all things woo. If you are a spiritual entrepreneur or leader looking to own your purpose and truth to make massive impact in this world, then you've found the right place. It is my mission to empower badass ambitious lightworkers to embrace their soul purpose, shine their light online with confidence and manifest their most soul-aligned business and life. You deserve to create your dream reality and this podcast will give you all the spirituality, manifestation, mindset and business tools to make it all happen. Get ready to raise your vibration BIG TIME and to raise the vibration of this entire planet with your light.
In this episode, I had the honour of interview my beautiful friend & Self-Mastery coach Ashley Perkins! Who's Ashley? I'm glad you asked! Meet Ashley Perkins, a Self-Mastery Coach and Speaker, Personal Development Expert, and Human Design Analyst. Ashley helps discouraged entrepreneurs ditch the need for 'one more strategy' and reclaim their power, so they can shift their focus inward and cultivate a life and business they love and the person they were born to be. Certified as a Master Life & Success Coach, NLP & Hypnosis Practitioner, with over 5-years of business and life coaching under her belt, Ashley's signature 'Self-Mastery Method' provides a safe space for conscious, caring entrepreneurs to end patterns of self-sabotage and embody their authentic identity, empowering them to easily and effortlessly expand their self-worth, 2x-10x their income, and magnetize their ideal relationships and even other amazing opportunities like speaking on stage. With powerful tools and transformative modalities like Hypnosis, Tapping, Human Design, Daily Re-Programming Exercises and more, Ashley's 'Self-Mastery Method' easily guides individuals to confidently step into their next-level life and business with a whole new sense of purpose and power.
In our conversation, we chat all about what self mastery is, how to unbecome who you were told to be so that you can really be who you are, human design and so much more. Ashley also shares with us 6 powerful steps & her fave NLP technique on how to take things back to basic to center yourself into your most fulfilling life, so you're going to want to listen in to all of this!
Hope you enjoy!  
Work With Me: 
Book in your FREE 30 minute Light Activation Clarity Call: https://psimella.as.me/lightactivationclarity
If you are spiritual entrepreneur ready to shine your light & share your message BIG time, check out the Shine Your Light 1:1 Program: http://bit.ly/34qUcVU 
If you are a lightworker looking to design and manifest your most LIT UP life, check out the Light Up Your Life 1:1 Program: http://bit.ly/36wbrqL 
Connect with Ashley & Check Out the Self-Mastery Mastermind: 
Come Hang Out with Me!
Instagram: https://www.instagram.com/psimella/
Badass Lightworker Tribe Facebook Group:https://www.facebook.com/groups/badasslightworker
YouTube: https://www.youtube.com/c/psimella
Website: https://www.psimella.com
If you liked this episode, be sure to give a rating and review on iTunes! It would make my LIFE and help other Badass Lightworkers find this content. 
Stay light & shine bright! 
xx 
Ella